Date published
09 August 2019
|
Last reviewed
24 October 2022
Operation Impala examined the improper access and dissemination of confidential information by public sector agencies.
In November 2019 the CCC held a public hearing to examine:
Factors which facilitate misuse of information within the Queensland public sector by examination of the technical, people, and systems components of information management within the Queensland Police Service, Queensland Corrective Services, Department of Education, Department of Health (including two Hospital and Health Services - Gold Coast HHS and Mackay HHS) and the Department of Transport and Main Roads.
Features of the legislative, policy and operational environment within each agency that may enable corrupt conduct to occur or are vulnerable to corrupt conduct.
Reforms to better prevent, detect and deal with corrupt conduct relating to misuse of information within the identified agencies, and lessons that can be extrapolated to the broader Queensland public sector.
The hearing is now closed and the report was tabled on 21 February 2020. 
Report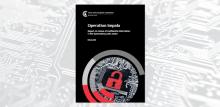 Public Reports - Investigations
Operation Impala examined the misuse of confidential information by public sector agencies.
Each CCC public hearing has terms of reference. 
The Terms of Reference for Operation Impala are available below. 
News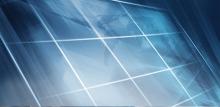 In a report tabled in State Parliament today, the CCC has provided 18 recommendations designed to ensure that Queenslanders' confidential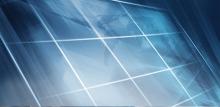 The Crime and Corruption Commission (CCC) has launched Operation Impala to examine the misuse of personal and sensitive information by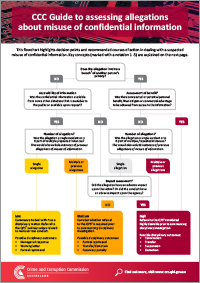 This flowchart highlights decision points and recommended courses of action in dealing with a suspected misuse of confidential information. This document was published by the CCC on 6 May 2020. The guide was developed following the CCC's Operation Impala public hearing.
Operation Impala contact details
Post / Mail 
Attn: Operation Impala
GPO Box 3123
Brisbane
QLD 4001
Email
Media contact
How to report corruption?
If you wish to lodge a complaint or provide information about an allegation of corrupt conduct in Queensland relating to misuse of confidential information, please lodge your complaint via the CCC's onlinecomplaint form. 
This short animation by the Crime and Corruption Commission (CCC) aims to raise awareness of the seriousness of misuse of confidential information. The animation is based on a number of findings from the CCC's Operation Impala, including some of the most common causes for employees finding themselves under investigation for corrupt conduct for misusing confidential information. The key message for all public sector staff is: Misuse of confidential information is corrupt conduct and proven instances can result in criminal charges.
To provide feedback on this page's content, please
contact us
.
Topic
CCC
Corruption
Corruption prevention
Local government
Public sector
Police