The CCC conducts audits to examine how public sector agencies have responded to particular types of complaints about corruption and how robust their complaints management and prevention frameworks are. The audits are also aimed at controlling the risks of corruption.
To determine what audits the CCC will undertake, a corruption audit plan is prepared that describes the proposed program of audits. 
Our Corruption Audit Plan - 2019 - 2021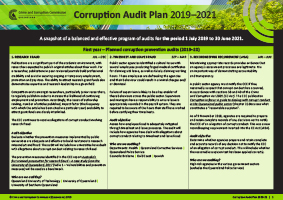 Public reports
While not all CCC audit reports are made available to the public, summary audit reports may be produced to promote public confidence in the integrity of public administration. Our reports contain concise results of our findings and recommendations. 
Below are the summary audit reports arising from the Corruption Audit Plan for the financial years 2019 - 2021.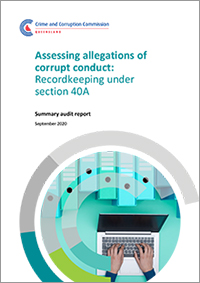 This summary audit report Assessing allegations of corrupt conduct: Recordkeeping requirements under section 40A contains the results of an audit conducted by the CCC in 2019–20. The CCC examined the policies and processes of seven public sector agencies to assess their capacity to:
effectively capture complete and accurate records of their assessment decisions of complaints about corrupt conduct coming to their attention, and

correctly form conclusions that the allegations did not reasonably raise a suspicion of corrupt conduct for the complaints to be notified to the CCC.

---

The following resources have been developed to complement this audit report.

A guide to assist agencies with their recordkeeping practices relating to section 40A of the Crime and Corruption Act 2001 (CC Act). Download the Guide: Assessing allegations of corrupt conduct - A guide to recordkeeping under section 40A (PDF)
A suggested template for a Corrupt Conduct Assessment form. Download the form: Corrupt Conduct Assessment form (DOC)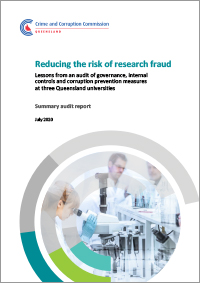 This audit was conducted to evaluate the measures that Queensland universities have put in place to mitigate research fraud. The summary of the full audit is intended to highlight the lessons to be learned from the experiences of the three participating universities, build the capacity of agencies that conduct research to deal with similar issues, and to increase transparency about the operation of the public sector.
To provide feedback on this page's content, please
contact us
.
Publication Type
Corruption Audits
Topics
CCC
Corruption prevention
Local government
Public sector
Police
Corruption