Date published
28 June 2019
|
Last reviewed
12 December 2022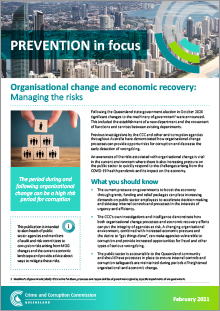 "Crime and corruption prosper when individuals put their private interests before the public interest. It's that simple. The Crime and Corruption Commission's (CCC) work in the last few years has unfortunately demonstrated that the threat of corruption remains. Whilst it manifests in new ways, we all need to work together to identify and extinguish it.
"Building strong cultures of integrity is the single most significant action our public sector leaders at all levels can take to address corruption."
Alan MacSporran QC
Former CCC Chairperson 
The Prevention in focus series draws on CCC investigations to highlight specific prevention lessons for the Queensland public sector. 
To provide feedback on this page's content, please
contact us
.
Publication Type
Corruption Prevention Resources
Topics
Local government
Research
Tags
Corruption
Fraud
Prevention
Investigations