Date published
1 June 2022
|
Last reviewed
17 May 2023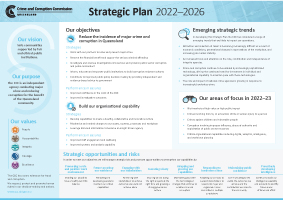 This is the CCC Strategic Plan for 2022-2026.
The CCC Strategic Plan 2022-2026 details the CCC's objectives and strategies for the next four years, and outlines the areas of focus for the 2022-23 financial year.  
Our two strategic objectives are to:
reduce the incidence of major crime and corruption in Queensland

build our organisational capability.
To find out more, read the Strategic Plan 2022-2026.

You can view and download previous CCC Strategic Plans, below.
To provide feedback on this page's content, please
contact us
.
Publication Type
Corporate Strategies, Plans, Policies and Reports