Date published
30 June 2023
|
Last reviewed
28 September 2023
This is the CCC Strategic Plan for 2023-2027.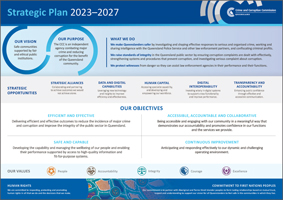 The CCC Strategic Plan 2023-2027 details the CCC's objectives and strategies for the next four years.
 Our four objectives are:
Efficient and Effective

: Delivering efficient and effective outcomes to reduce the incidence of major crime and corruption, and improve the integrity of the public sector in Queensland.

Safe and Capable

: Developing the capability and managing the wellbeing of our people and enabling their performance through access to high-quality information and fit-for-purpose systems.

Accessible, Accountable and Collaborative

: Being accessible and engaging with our community in a meaningful way that demonstrates our accountability and promotes confidence in our functions and the services we provide.

Continuous Improvement:

Anticipating and responding effectively to our dynamic and challenging operating environment.
The CCC Strategic Plan 2023-2027 includes the strategic opportunities, strategic risks and mega trends that have been considered when preparing our four-year strategic plan.
To find out more, read the Strategic Plan 2023-2027.



You can view and download previous CCC Strategic Plans, below.
To provide feedback on this page's content, please
contact us
.
Publication Type
Corporate Strategies, Plans, Policies and Reports