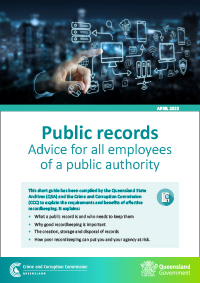 This short guide has been compiled by the Queensland State Archives (QSA) and the Crime and Corruption Commission (CCC) to explain the requirements and benefits of effective recordkeeping. It details what a public record is and who should keep them; why good recordkeeping is important; and how poor recordkeeping can put you and your agency at risk. It also outlines the key elements to be considered when creating, storing and disposing of public records.
Last updated: 23 September 2020
To provide feedback on this page's content, please
contact us
.
Publication Type
Guide/manual
Topics
CCC
Public sector
Corruption prevention