Date published
17 June 2022
|
Last reviewed
30 January 2023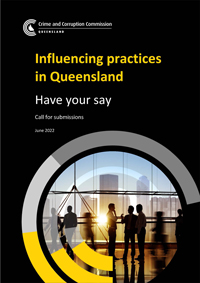 A discussion paper titled, 'Influencing practices in Queensland: Have your say'  has been published by the CCC inviting submissions on a range of topics related to influence, decision-making and transparency in Queensland.
Submissions are due by close of business on Friday 29 July 2022. 
To provide feedback on this page's content, please
contact us
.
Publication Type
Submissions / Call for submissions
Topics
CCC
Corruption prevention