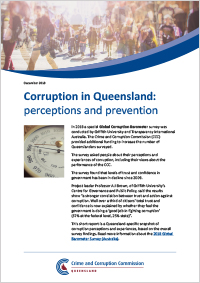 In May-June 2018 Griffith University and Transparency International Australia conducted a special Global Corruption Barometer Survey (Australia), with additional funding from the CCC to enable more Queenslanders to be included.
The in-person telephone poll of 2,218 adults provides the first measure since 2012 of the growing impact of corruption on citizens' trust and confidence in government.
This short report is a Queensland-specific snapshot of corruption perceptions and experiences, developed by the CCC based on the overall survey findings.
Read more information about the 2018 Global Barometer Survey (Australia).
To provide feedback on this page's content, please
contact us
.
Publication Type
Research report
Topics
Corruption prevention
Corruption
CCC