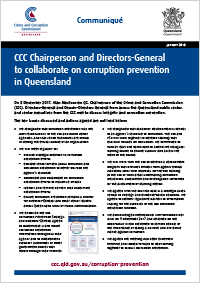 On 8 December 2017, Alan MacSporran QC, Chairperson of the Crime and Corruption Commission (CCC), Directors-General and Deputy-Directors General from across the Queensland public sector, and senior executives from the CCC met to discuss integrity and corruption prevention. 
The communique sets out the key issues discussed and the actions agreed at the meeting. 
Click here to view the communiqué from the CCC Chairperson and Directors-General.
Alternatively, click here to view the joint communiqué from Australia's anti-corruption Commissioners (issued 7 December 2018).
To provide feedback on this page's content, please
contact us
.
Publication Type
Strategy document/plan