Date published
27 October 2021
|
Last modified
28 October 2021
About the survey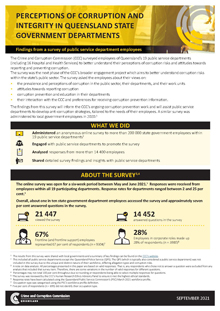 In May-June 2021, the CCC surveyed employees of Queensland's 19 public service departments (including 16 Hospital and Health Services) about their perceptions of corruption and integrity. They were asked questions about:
the prevalence and perceptions of corruption in the public sector, their department, and their work unit
corruption risks and/or behaviours that they suspected or had witnessed
departmental attitudes towards reporting corruption, and
corruption prevention and education in their department.
Read the full results of the survey.
Significant issues identified by survey respondents
Public service department employees were asked if they had ever witnessed or suspected a range of behaviours and the extent to which they think the behaviour is corrupt.
Among those respondents who told the CCC that they had, the most common behaviours identified were nepotism/favouritism in recruitment, timesheet fraud and the theft of resources. Respondents agreed that corrupt behaviours also included accepting property in exchange for awarding a contract and people misusing confidential information to benefit themselves. 
When asked what they believed to be the greatest corruption risks in their departments, survey respondents identified bullying and harassment (including sexual harassment), absent or inadequate internal systems, recruitment of personnel (including vetting), and absent or unclear policies and procedures.
They also Identified procurement as a vulnerable area, and reported concerns about corruption risks associated with lobbying.
Reporting corruption: attitudes and barriers 
Although a large proportion of respondents indicated they would report corruption, less than half agreed that their workplace actively encourages the reporting of corruption, or communicates to their staff how to report corruption.
There was a strong preference among those who indicated they would report corruption to disclose to their supervisor or manager, and a high level of agreement that their direct supervisor would be supportive of them if they reported corruption. Overall, however, slightly more respondents identified a preference to report corruption to someone external to their organisation as opposed to someone internal to their organisation.
Respondents stated that the following were barriers to reporting corruption: lack of confidence that they would be protected from reprisal or victimisation, concern about losing their job or experiencing other personal repercussions, or that meaningful action would not be taken. 
A small proportion of respondents indicated they would not report corruption because they do not know how to. 
Resources to help you make a complaint
If you are considering making a complaint to the CCC about corruption, the following information will show you how providing additional detail can make your complaint more effective.
Reporting corrupt conduct? Make your complaint count! video series 
Recruitment and selection panels
Procurement contracts and tenders
Unlawful instructions and improper requests
No access to YouTube? View videos in browser.
---
Note: The names of the people in this video are fictional and are not based on real people or actual complaints. Any resemblance to actual events, people or companies, is entirely coincidental. However the issues presented and discussed in the video are regularly reported to the Crime and Corruption Commission (CCC).
To provide feedback on this page's content, please
contact us
.
Topics
CCC
Corruption
Corruption prevention
Public sector
Research