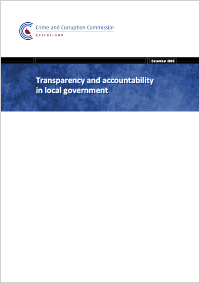 In May and June 2014 the Crime and Corruption Commission (CCC) received information about Cr Paul Pisasale, the Mayor of Ipswich.
The information centred on:
obligations to enter gifts and benefits on the Ipswich City Council register of interests
obligations to disclose campaign donations for the 2012 local government election to the Electoral Commission of Queensland
the establishment, activities and use of funds by various entities with which he was associated.
Although the investigation did not identify any corrupt conduct, it became evident to the CCC during the investigation that current legislation does not clearly prescribe how an elected official or local council must treat campaign funds or donations in a range of circumstances. This is particularly relevant to the transition from one disclosure period to the next disclosure period.
It also found an issue in relation to timeframes for disclosure of donations, and a lack of alignment between state and local government legislation governing thresholds for donation disclosure that could potentially be confusing.
At the conclusion of the investigation, the CCC determined to issue a public report about several of the issues raised during the course of the investigation and make recommendations for legislative reform. Its aim is to increase transparency in the local government sector, reduce perceptions of corruption and promote public confidence in the probity of elected officials.
This report examines issues related to the compliance and reporting framework for local government officials, especially the treatment of campaign funds or other gifts and benefits. 
To provide feedback on this page's content, please
contact us
.
Publication Type
Investigation report
Topics
CCC
Local government
Corruption
Corruption prevention