This report details an investigation arising from allegations that Mr David Barbagallo, when Chief of Staff to the Premier of Queensland, misused his position to obtain $267,500 funding from a government investment fund for a company in which he was a shareholder and director.
The CCC investigation did not find any evidence that Mr Barbagallo misused his position to obtain funding from the Advance Queensland Business Development (AQBD) Fund or that the decision to award funding to Fortress Capstone, the company of which he was a director, was the result of any improper influence.
Of particular interest to elected officials and ministerial staff, and senior public servants, the report highlights how conflicts of interests, if not properly managed, can create public perceptions of impropriety.
The report also details important issues of transparency and governance, and includes recommendations to address them.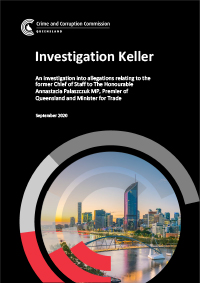 To provide feedback on this page's content, please
contact us
.
Publication Type
Investigation report