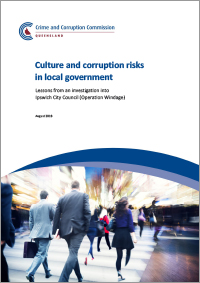 On 17 October 2016, the CCC commenced a corruption investigation, Operation Windage, in relation to allegations of corrupt conduct involving the Mayor, Chief Executive Officer and the Chief Operating Officer, Works, Parks and Recreation of the Ipswich City Council.
The investigation identified alleged criminal and corrupt activity, including corruption offences, attempting to pervert the course of justice, fraud, breach of bail, extortion and perjury.
It also identified significant governance failures and cultural issues, which are the subject of this report. 
To provide feedback on this page's content, please
contact us
.
Publication Type
Investigation report