Date published
1 February 2019
|
Last reviewed
14 December 2022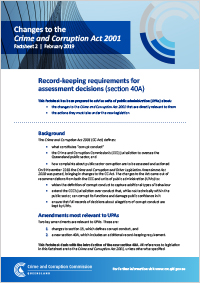 On 9 November 2018 the Crime and Corruption and Other Legislation Amendment Act 2018 was passed, bringing in changes to the Crime and Corruption Act.
This factsheet has been prepared to advise units of public administration (UPAs) about:
the changes to the Crime and Corruption Act 2001 that are directly relevant to them
the actions they must take under the new legislation.
Amendments most relevant to UPAs
Two key amendments are relevant to UPAs. These are:
changes to section 15, which defines corrupt conduct, and
a new section 40A, which includes an additional record-keeping requirement.
This factsheet deals with the introduction of the new section 40A. 
To provide feedback on this page's content, please
contact us
.
Publication Type
Public Sector Guidance and Resources