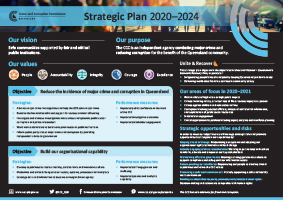 This is the CCC Strategic Plan for 2020 - 2024.
This plan outlines and highlights the CCC's objectives, strategies and performance indicators.
This Plan was updated in January 2021 to reflect the CCC's objectives for the Queensland community as outlined in the Unite and Recover – Queensland's Economic Recovery Plan. Read Queensland's economic recovery plan here: www.covid19.qld.gov.au/government-actions/queensland-economic-recovery-plan
The CCC's previous Strategic Plans can be viewed and downloaded below. 
Last updated: 28 January 2021
To provide feedback on this page's content, please
contact us
.
Publication Type
Strategy document/plan